What are the system's components?
Construction elements
in the system
The system's
components
Mobu buildings are created by combining specifically designed construction elements made from materials certified for use in the modular construction method. The Mobu system ensures the creation of safe, durable homes.
1/Foundations
Each plot of land is unique, and a geologist must be consulted in the first phase of study in order to determine its geological and geothermal characteristics. An engineer then examines and establishes the precise lay of the land on which the construction work is to begin. The next step is to put in a high-quality concrete slab and anchoring, i.e. embedding the embed plates.

The foundations of Mobu buildings are continuous and ensure the proper absorption of the loads transmitted by the structures built on them and effective distribution to the ground. This helps ensure the building's anti-seismic performance.
2/Structure
STEEL
The building's framework is made from structural steel according to precise anti-seismic calculations. Steel is a hard, yet ductile material, resistant to tearing, breaking and yielding. It is relatively light and, through galvanizing, ensures insulation and optimal resistance to corrosive agents.
WOOD
The roof is made from double-bladed or laminated wood, depending on engineering needs, and is combined with planking of appropriate thickness.
STAIRCASES
The steel structures of Mobu buildings make it possible to create anchors for staircases of various shapes and materials.
3/Insulation
WALL MODULES
The core of each wall is a prefabricated module made of a dried wooden frame with internal high-intensity rockwool with thermal and acoustic insulation capacity. Walls are raised from the ground through an insulated steel element laid at the base, thus preventing rising moisture and interstitial condensation.
VENTILATED WALL AND ROOF INSULATION
To protect the structure, ventilated thermal insulation is installed, consisting of expanded polyurethane modules with integrated supports to attach the layer to the cladding. This ensures complete thermal and acoustic insulation for the building.
4/Cladding
WALL CLADDING
Each building's cladding can be personalised to suit the home's desired tastes and style. Thanks to the metallic supports integrated into the modular elements, the exterior walls of Mobu buildings can be finished with the pre-established material or a wide range of solutions that include reinforced concrete, stoneware slabs, metal slats, expanded sheet metal, HPL and/or wood slats.
ROOF CLADDING
Various materials can be used for roof cladding, including tiles, shingles and sheets, thanks to attachment to the metal supports of the thermal insulation.
5/Doors and windows
THERMAL MONOBLOCKS
To house exterior door and window fixtures, Mobu has chosen modular elements, built and sized in the factory to be assembled on site with close attention to each building's distinctive aesthetic style. Housings for curtains, shutters and blinds are designed to accommodate electric motors and remote control.
DOOR AND WINDOW FIXTURES
For its homes, Mobu offers door and window fixtures made from PVC, wood or aluminium, all equipped with single- or double-chamber glass. Our fixtures ensure thermal and acoustic insulation.
Example home models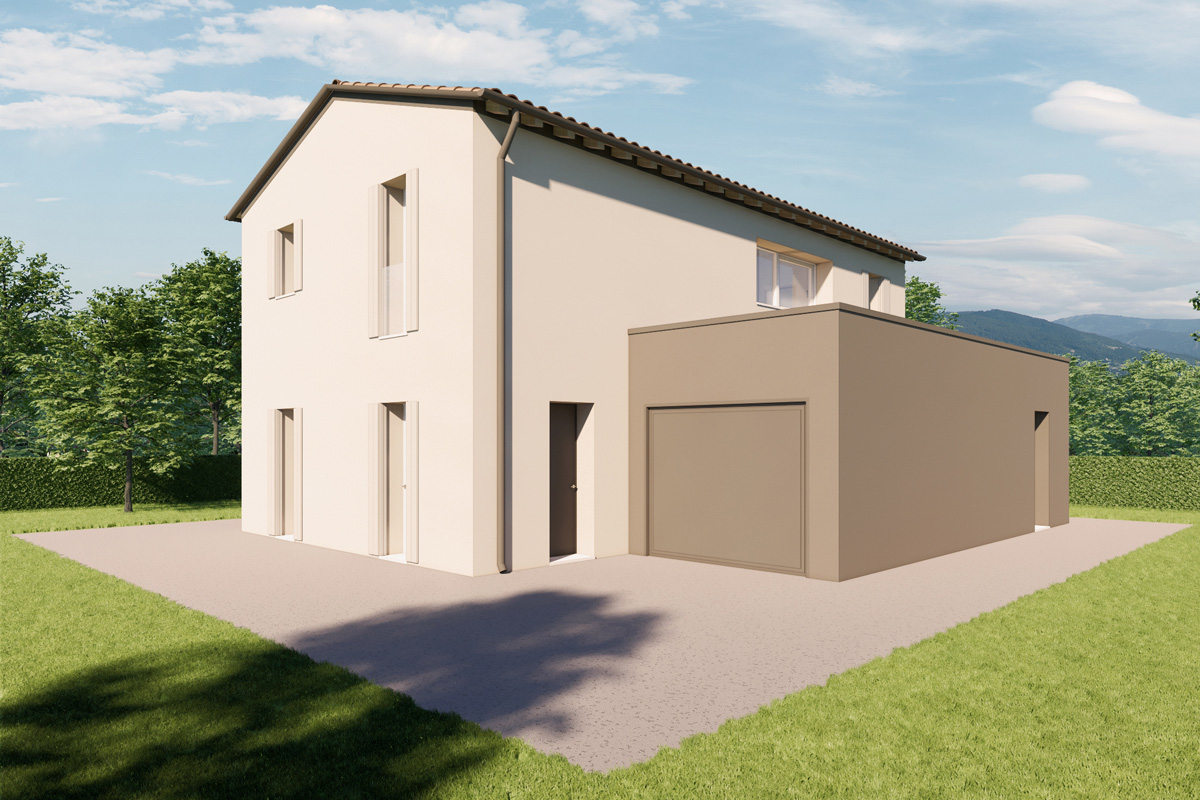 Model
M320-NS
This single-family home has two floors, with a total net surface area of 164 square metres. Characterised by a roof parallel to its long side, it offers a clean, minimalist design, ideal for those who desire a contemporary lifestyle.
2 floors 164 sqm net 216 sqm gross Garage
Explore the model
Model
M515-TP
This home design features a contemporary, minimalist style, with a distinctive design characterised by two adjacent volumes that extend over two floors. This architectural layout lends a touch of originality to the home.
2 floors 154 sqm net 202 sqm gross Portico
Explore the model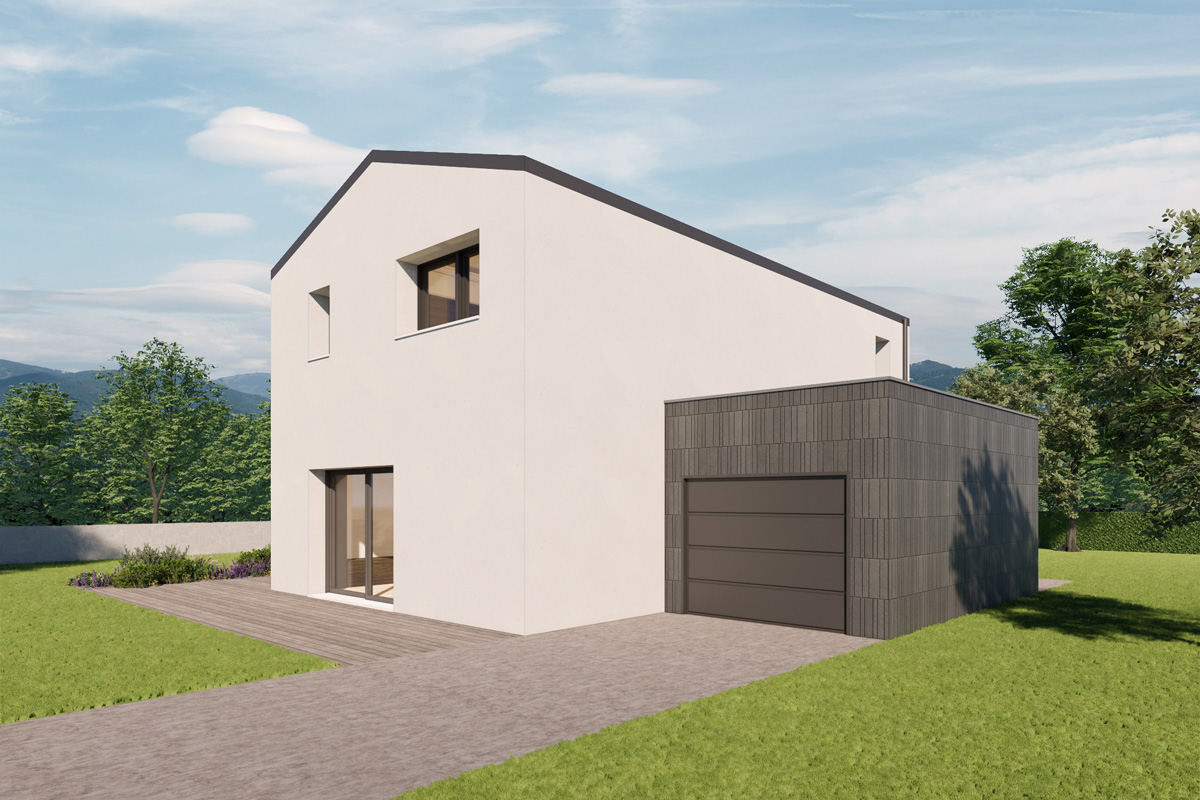 Model
M520-NS
This modern home stands out for its rectilinear design, which grants it an elegant, contemporary appearance. In addition, the presence of an attached garage adds practicality and functionality.
2 floors 156 sqm net 206 sqm gross Garage
Explore the model